cessna SKYLANE 182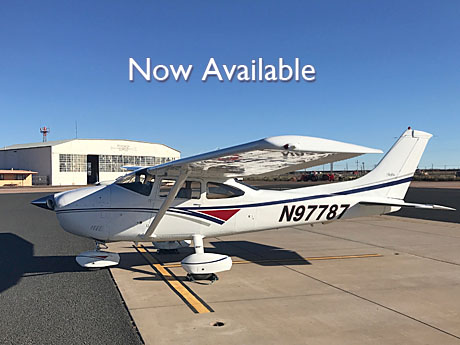 SPECIFICATIONS:

Manufacturer: Cessna

Model: Skylane 182

Price: $109 per hour USD

Fuel not included in rental rate .

Location: Scottsdale, AZ

Registration Number: N97787

Flight Rules: VFR/IFR

Number Of Seats: 4

Engine: Teledyne Continental 0-470-U

AVIONICS/RADIOS:


Garmin GMA-345 Audio Panel with Bluetooth and USB Port.


Electroair EIS 61000-1C Electronic Ignition


JPI 830 Engine Data Management System


KFC 200 Auto Pilot with Altitude Preselect


Garmin GNS-530W WAAS GPS


Aspen EFD-2000 Pro System


Bendix King KX-165

FEATURES

Power, Controllability and Comfort.

Our Electronic Flight Instrument System, often termed a "glass cockpit," features high resolution displays and large LCD screens.

Aerodyne's panel was specifically designed to reflect the mind of a CFI and the heart of a pilot with added emphasis on safety and convenience.

No going back and forth between screens (swapping between maps and engine) during any phase of flight.
I
Improved graphical interface means pilots can easily navigate flight information.

Ergonomically arranged avionics improves overall situational awareness.

Less of a learning curve in transitioning from other avionics suites to Aerodyne's Skylane.

Provides systems for increased performance and knowledge.
I
Independent instructor panel for enhanced flight safety.

Roomy four-seat configuration for maximum comfort.

There is a moment when you go from simply having your pilot's certificate to being a pilot. It's the feeling of transformation you get when you fly a Cessna Skylane. There's no going back.

Click Photos Below to Enlarge