ABOUT US
AERODYNE FLIGHT CENTER
Aerodyne Flight Center™ was founded in November 2004 by Doug Cox, CFII, in Oregon City, OR, to provide personalized flight training to customers interested in becoming safe, competent and technically proficient pilots. Aerodyne moved to Scottsdale, Ariz., in March 2012, and began operations as a division of Aviation Resource Group, LLC. The name Aerodyne Flight Center™ was officially trademarked by the U.S. Patent and Trademark Office in August 2016.

Insurance underwriters regularly direct customers to Aerodyne for training programs in Twin Cessna, Piper Malibu, Cirrus and Columbia aircraft. Along with specialty training, we also offer training at all levels from private pilot certificates and instrument flight ratings to air transport pilots and certified instructor programs. All programs adhere to established national norms specified by the FAA for flight training curriculum segments.

At Aerodyne, pilot training takes place in your aircraft or ours. A unique feature of Aerodyne is that our CFIs are available to travel directly to your location to provide training in your aircraft anywhere in the continental U.S. Our training aircraft includes a multi-engine Twin Cessna 310 with upgraded avionics. Instruction also takes place in our state-of-the-art Redbird Flight Simulator.

In addition to flight training, the company manages pre-owned aircraft sales and features a pilot store carrying a variety of aviation supplies and novelty items. Surplus aircraft parts are sold through our eBay store.

In June 2021, Aerodyne's operations relocated from the Air Commerce Center to a new address at the Desert Center, 15953 N. Greenway-Hayden Loop, Suite K, Scottsdale, AZ 85260. We invite you to stop by for a cup of coffee, check out our facility and programs, and meet our staff.
Aviation Resource Group is headquartered at the Scottsdale Airport. Our administrative office and mailing address is 14700 N. Airport Drive, Suite 219, Scottsdale, AZ 85260.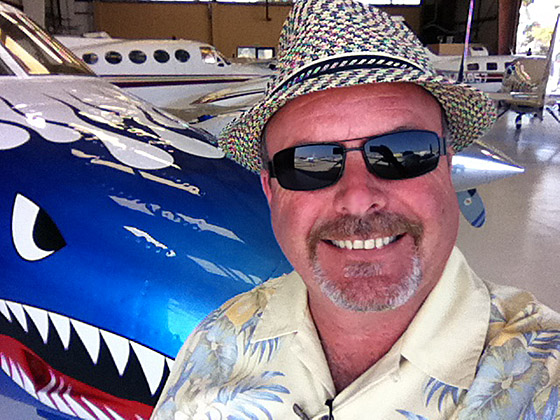 ABOUT THE OWNER
Douglas R. Cox, CFII, founder and owner of Aerodyne Flight Center, has been working as a full-time certified flight instructor since August 1998. Since then, he has amassed more than 8,000 hours of flight instructor time. Prior to establishing Aerodyne, Cox worked as Chief Pilot and Chief Flight Instructor for Aurora Aviation in Aurora, Ore. and Chief Flight Instructor for Pro Air in Bend, Ore. He also spent several years as an instructor for Sim-Com in Scottsdale, Ariz.

A native of Liverpool, England, Cox grew up in a family interested in aviation. His paternal grandfather served in the British Royal Air Force during World War II, working as a ground sargeant servicing Avro Lancasters and other aircraft as they performed bombing missions over Germany. Cox's father was an aeronautical engineer with Boeing Aircraft, relocating his family from England to Seattle, Wash., when Cox was in grade school. However, neither his grandfather nor his father ever became pilots. Cox almost didn't either!

In his teens and twenties, Cox worked in the photography business, owning and operating a successful photo studio and frame shop for several years in downtown Portland, Ore. One afternoon, while attending an air show with his kids, he chatted with several instructors and asked, "How do I learn to do this?" He left knowing he was going to become a pilot. "It was so clear to me that that's what I was meant to do," he said. Within months, Cox had closed his photography studio, gotten a job handling baggage with Delta Airlines ("just to get my foot in the door") and enrolled in the aviation degree program at Mount Hood Community College.

Today, Cox is a CFI, CFII and MEI with vast experience in training pilots at all levels. He has been specially trained as a Columbia factory instructor. Since April 2004, he has served as a CSIP (Cirrus Standardized Instructor Pilot). Customers travel from throughout the United States to Scottsdale to receive pilot training from Doug and to attend his 2 ½-day classes to prep for their written private pilot and IFR exams. Doug also enjoys traveling around the country to provide personalized training to pilots who want to get instruction in their own aircraft.

Having flown from New York to California, and from Alaska to Florida, Cox maintains that "flying gives you more life." He enjoys passing on his passion for aviation to others. When not behind the controls of an airplane, Doug can be found bicycling around the Valley, boating at Lake Powell, volunteering as an usher at Impact Church, and spending time with his longtime partner, Nancy. He is the father of two sons and a daughter, and has fun spoiling his two adorable granddaughters and grandson.

Flight Training | Sales | Training Rentals